"I'll go Down to Earth and get it."
This sentence can often be heard in our home because Down to Earth is one of our wells in the current neighbourhood.
The first thing I do in a new town is look for "the wells" of various kinds. For instance, the well that covers (some of) the needs for biodiversity can be the nearest park and the wells for fresh, organic food are often at local farmers and shops.
I love supporting small, local businesses and one of the closest of such wells opened up in front me in the Portland road on one of my exploration walks in the first month of living in Brighton. Hove, actually.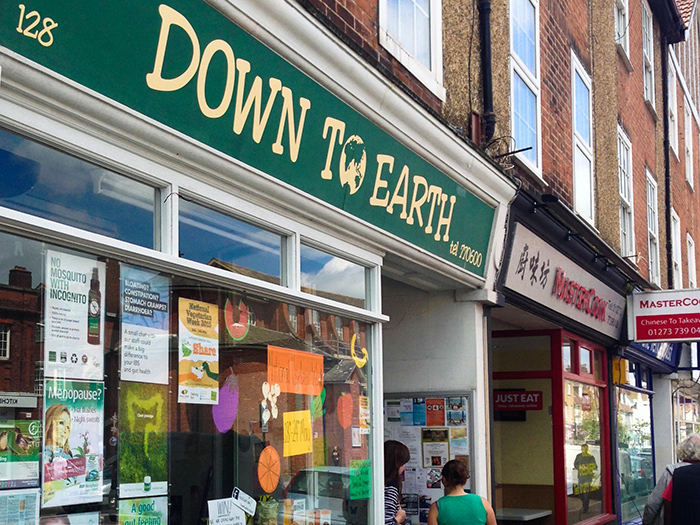 I loved the sign: "Down To Earth".
Soon, I found out that the inside suits the title.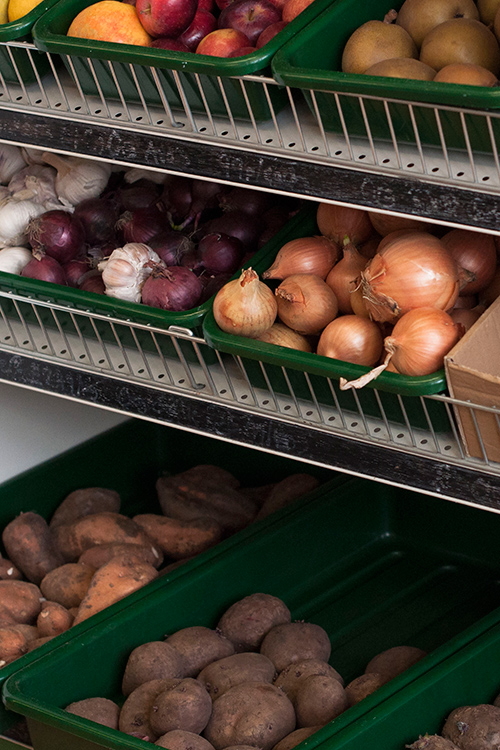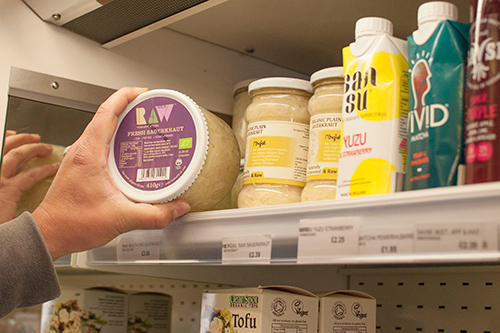 "We stock products we would buy ourselves and then add some more, depending on the needs of the community," says Matt, owner and manager of this well, patiently responding to my questions.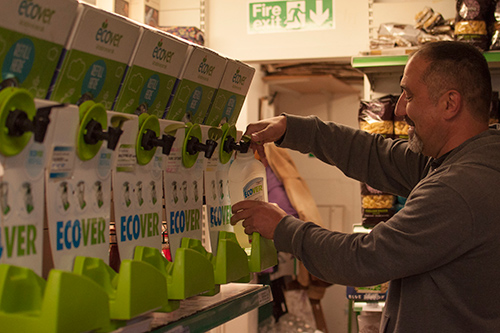 This intimate space is packed with goddies; variety of fresh fruits, vegetables, nuts and seeds, oils and most of the elements one might need for preparing a delicious and nutritious meal. Drinks? Make your pick. Household essentials? Many. Cosmetics? They have that, too as well as a range of supplements someone might want in certain phases of life.
Packed.
And… There may be some new items to discover next time.
I love finding out about new manufacturers and products, not just because I may find them useful in my life but also because it means yet another person out there boldly claimed her uniqueness and commitment to her own fulfilment while supporting her community to thrive – it makes my heart sing regardless whether it is about a creation of a blueberry jam, bookshelves or solar powered cars.
There are no car parts or bookshelves on offer in "Down To Earth" but there are books and jams, tea, herbs and spices and honey – from local to New Zealand's Manuka honey, aloa vera from Mexico or Spirulina from Hawaii.
Plentifulness of choice of organic products.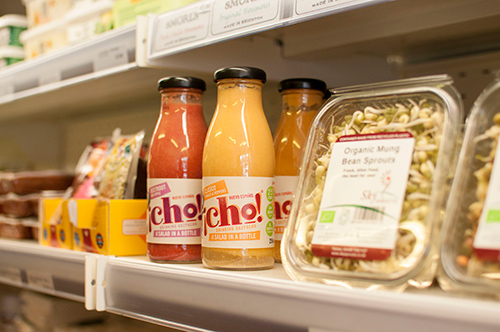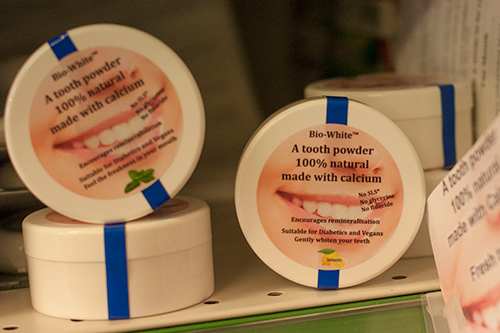 "We take time to get to know every product and if it fits the ethos of the place, we are happy to include it in our offer, especially if it is something locally produced," says Matt, always open for suggestions and ideas from his customers.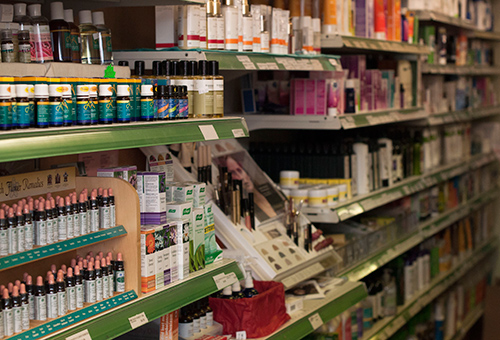 He'll do his best to include your favourite item, as I learned myself when we moved to his neighbourhood and after months of research found no happy substitute for some beloved products from the Alnatura and Alverde line. Matt worked to find the way to include them in his shop but it turned out they didn't have a distributor in the UK, yet.
However, he didn't mind the effort. "I just like getting to know the world, various people, their ideas, creations and movements," he explains while telling me how his personal interests range from sports to compiling ideas for making music and creating a radio show.
That is evident in the shop, as well. His interest in the world shows on the shelves because in such a small space one can literally get lost in the variety of offer from products to leaflets and posters about various activities and services in the community. He will also often give you a description on who made what and how and why.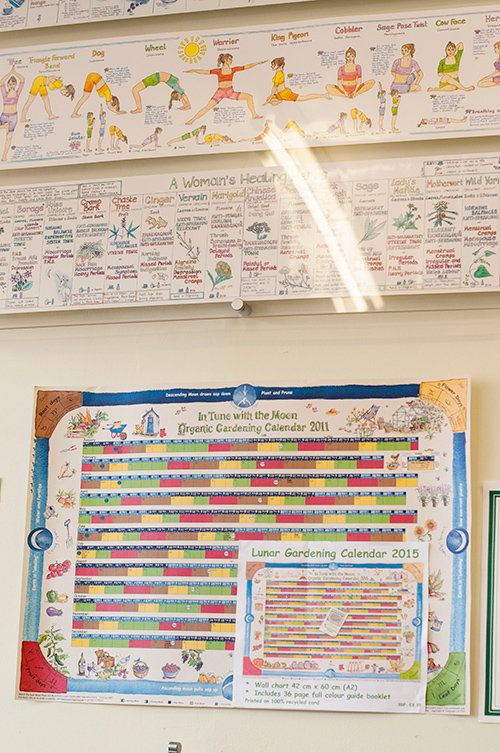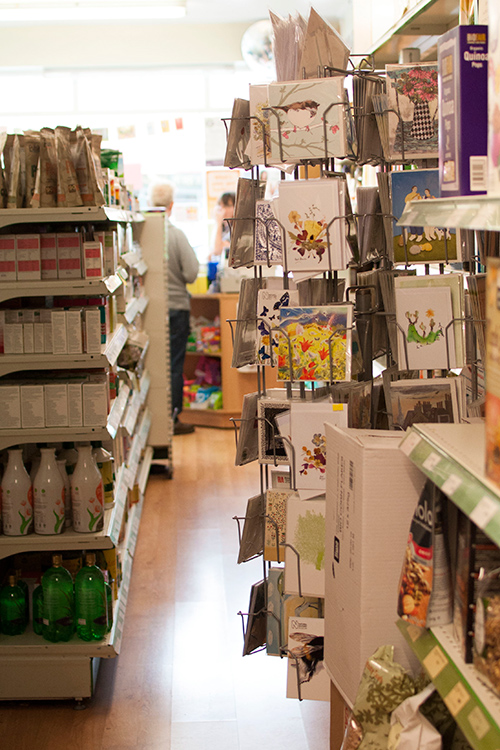 That is especially what I love in this shop because I have a small ritual when deciding which food to buy and then one when preparing it at home which involves thanking everyone and everything involved (yes, it takes a while to prepare a meal at our home…). Knowing a bit more about the producer and the area, it just makes my rituals more vivid in my mind and in my heart.
I thank them in my mind, of course. I don't write letters, be reasonable, please.
Actually…
I do sometimes. When I find something that really stands out and I can feel the love and care put into it I'll leave them a note on twitter or send an e-mail, or I'll write a blog post about them…
I am grateful to Matt for "Down to Earth", too. I want to give him and his staff a hug every time I see them, but I don't, because I bear the cultural differences in mind. I am from a Mediterranean country. Yes, we hug each other a lot over there just for the sake of a greeting. It is our "happy you exist" sort of a greeting.
However, one may feel hugged just by entering "Down to Earth", hugged by the energy of care for people and the environment, expressed by Matt, his staff and by all those products on the shelves that are made with love.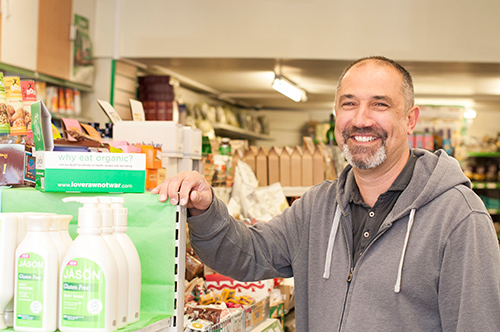 Thank you, Matt, for doing what you enjoy and contributing to the community in that way.
Share on Facebook